"Every day, I've seen incredible things in this protest."
That's how Tinashe recently described to E! News her experience taking to the streets in support of Black Lives Matter following the death of George Floyd.
"It's been really interesting to see firsthand the energy shift throughout the protest," she continued. "As more and more people have been joining, the energy has gotten actually more and more hopeful, more and more together."
She's not alone.
As Regina King told Seth Meyers during a June 11 appearance on Late Night, "I am managing a balance of optimism with the pain.This is the first time ever in my life that I've seen people in other countries supporting at the top of their lungs for Black people. You know, to see in Italy and Germany and all of these different places, people taking a knee and have signs that say Black Lives Matter."
"America is always the country that's going to the aid of someone else," she continued. "but that other countries are speaking out for not just America, but Black Americans, it makes me hopeful."
As people across the globe continue to take to the streets to protest police brutality and the systemic racism the Black community suffers disproportionately, these are some of the moments that have left celebrities and everyday citizens alike feeling inspired.
Richard Policastro/Richard Anthony Photography
A Child's Plea

A young child attended a protest in downtown Los Angeles through the safety of a vehicle, popping out the car's sunroof to make their voice heard.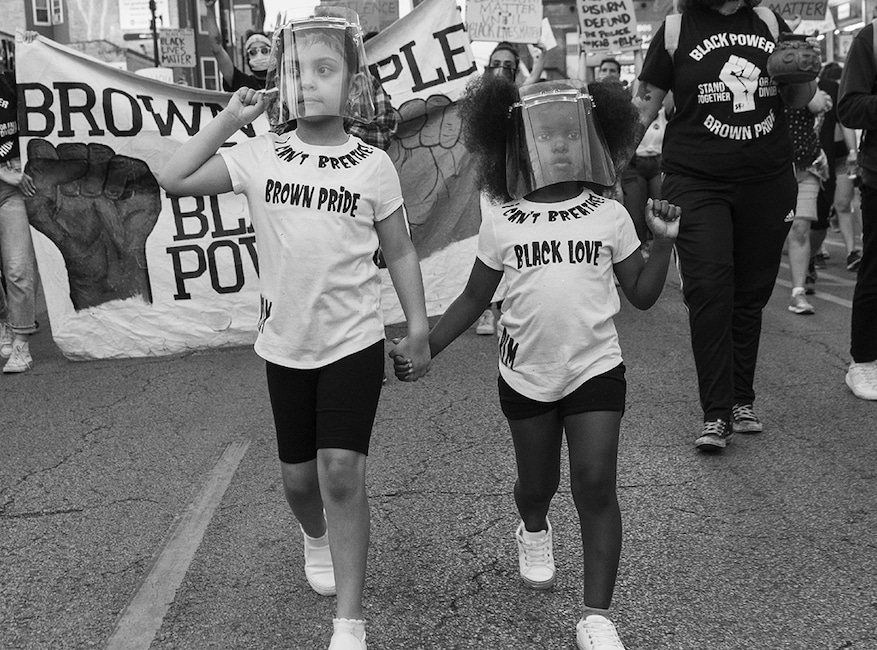 Mateo Zapata
Hand in Hand

Two young girls, one Latinx and one Black, marched together during a protest in Chicago meant to show solidarity and unity amongst their two communities.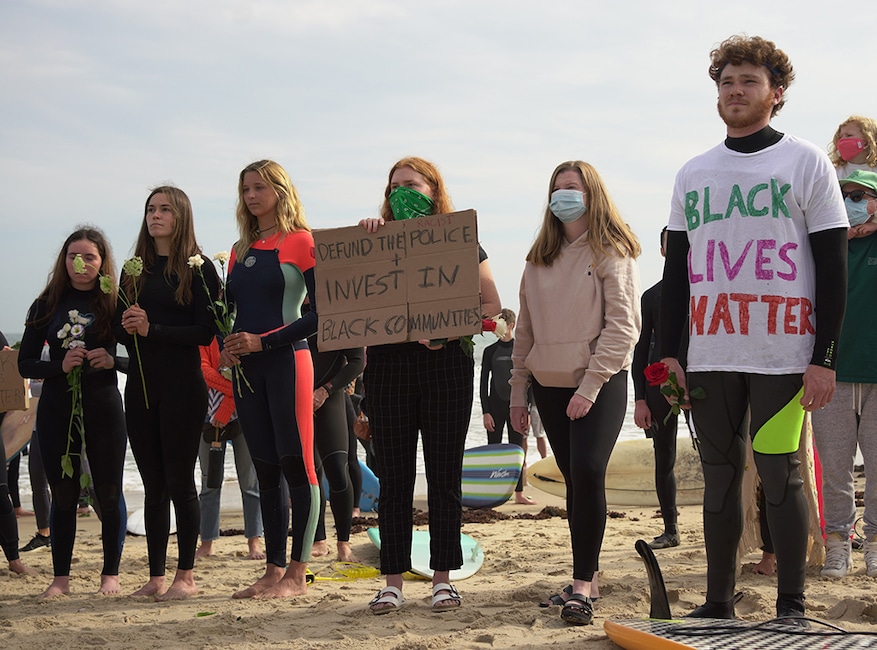 Lilliana Vazquez
Surfing in Solidarity

Surfers in Montauk join a "National Paddle Out" held on June 5 to honor George Floyd. The event, which took place in coastal communities across America, was organized by Black Girls Surf.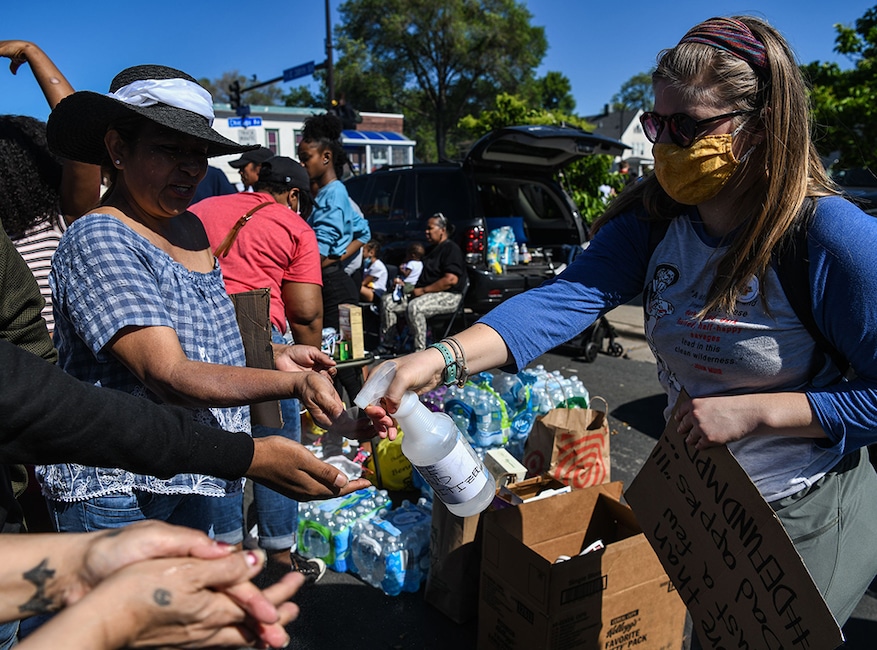 CHANDAN KHANNA/AFP via Getty Images
A Cleansing Hand

At a makeshift memorial for George Floyd in Minneapolis on May 30, a woman sprayed hand sanitizer into the hands of protesters risking COVID-19 exposure to take part in the protest.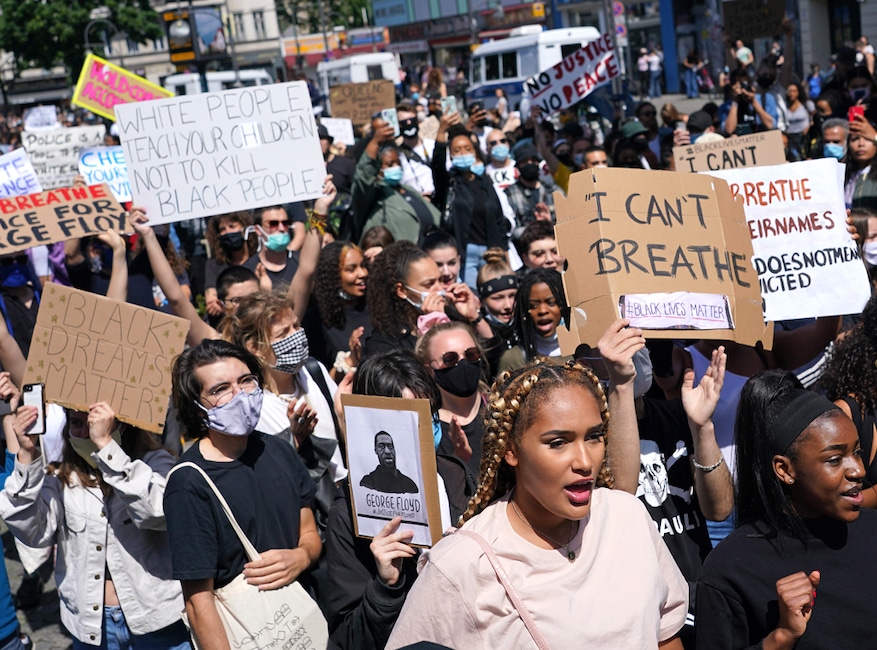 Sean Gallup/Getty Images
A Global Response

Protesters took to the streets in Berlin, Germany on May 31 to express their solidarity with Black Americans. The demonstration was one of many witnessed overseas in countries including France, Australia, New Zealand, Italy, the U.K., the Netherlands and Denmark.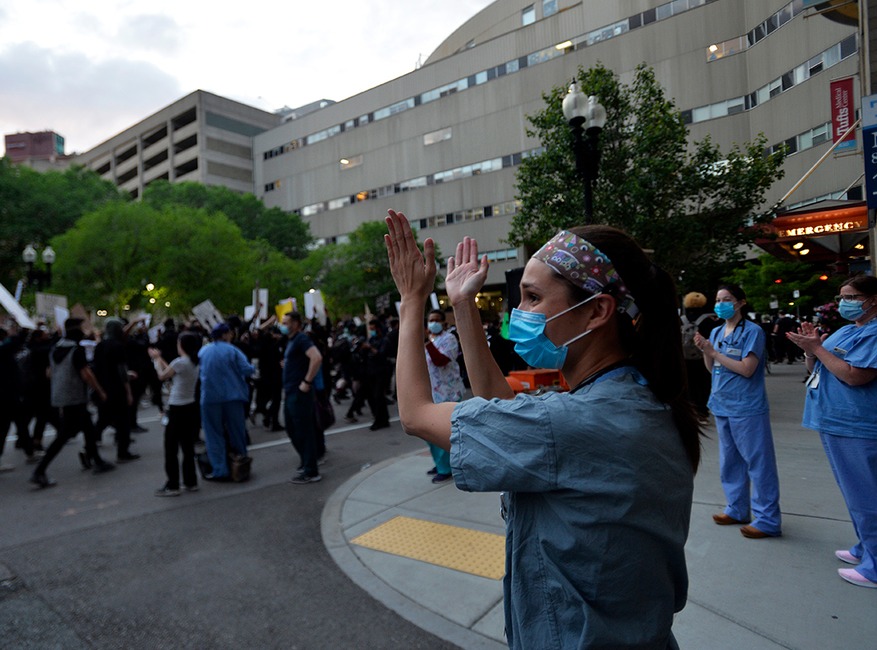 JOSEPH PREZIOSO/AFP via Getty Images
A Show of Support

On May 31, nurses in Boston were photographed stepping outside their hospital to applaud protesters marching by.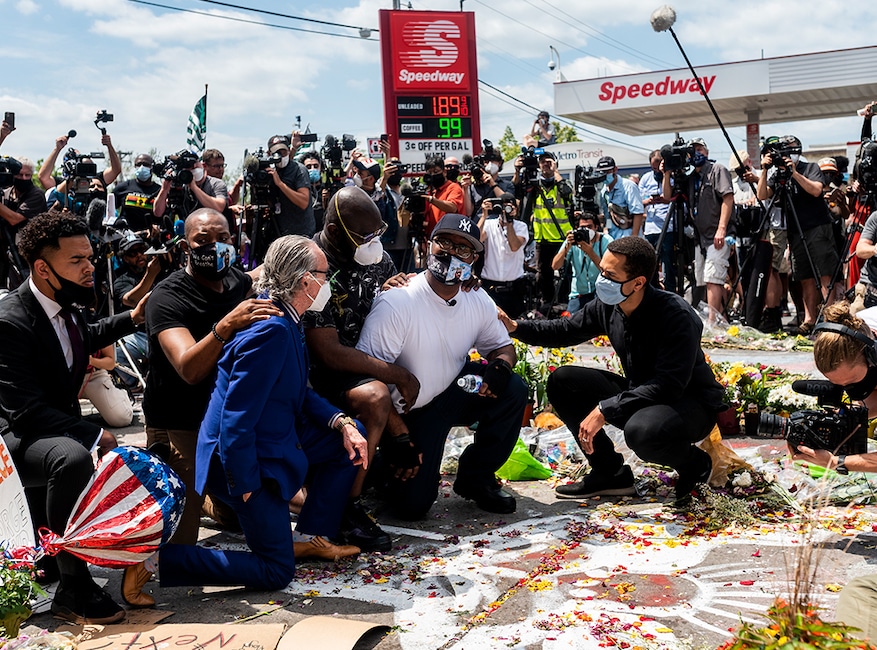 Stephen Maturen/Getty Images
A Brother's Plea

Terrence Floyd, brother of George Floyd, was the first family member to visit the site of George's death, attending a vigil on June 1 flanked by supporters. Addressing the crowd gathered, Terrence said, "I understand y'all upset, but like it was already said, I doubt y'all are half as upset as I am. So, if I'm not over here wildin' out, if I'm not over here blowing up stuff, if not over here messing up my community, then what are y'all doing? What are y'all doing? Y'all are doing nothing. Because that's not gonna bring my brother back at all. It may feel good for the moment, just like when you drink, but when it comes down you're gonna wonder what you did."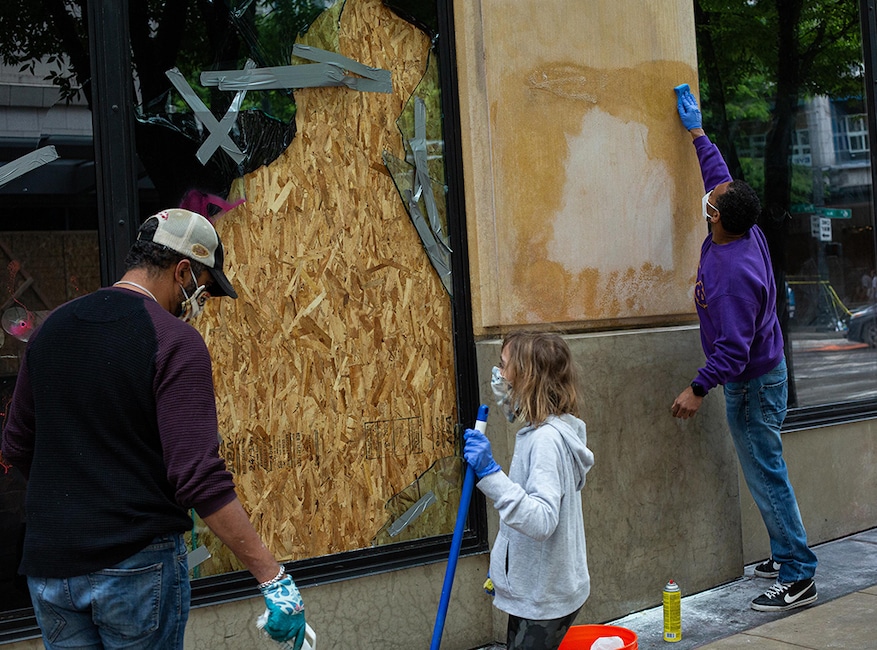 David Ryder/Getty Images
A Helping Hand

Volunteers in Seattle helped clean up on May 31 after violence leaves a storefront damaged.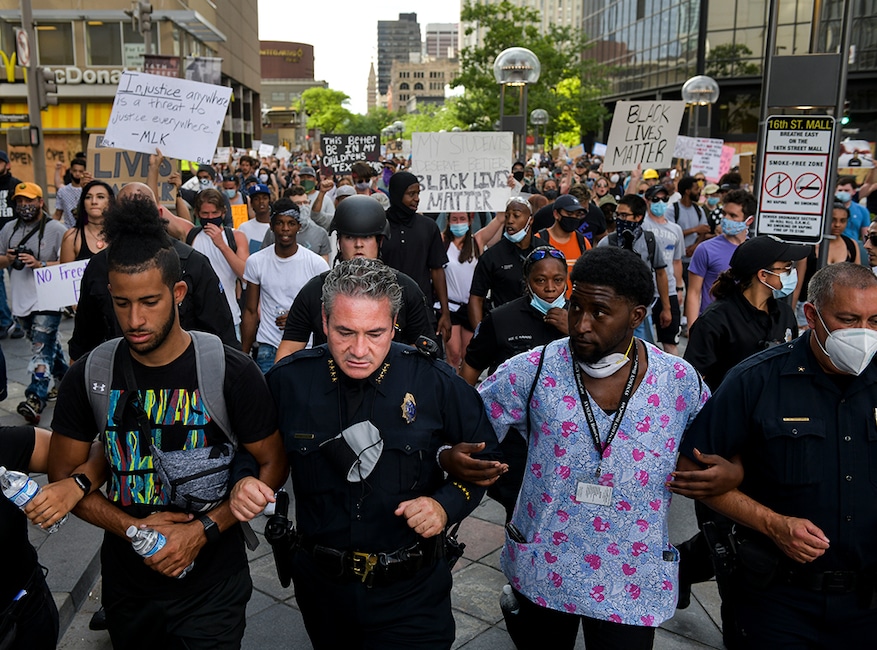 Michael Ciaglo/Getty Images
Solidarity

On June 1, Denver Police Chief Paul Pazen linked arms with demonstrators protesting Floyd's death.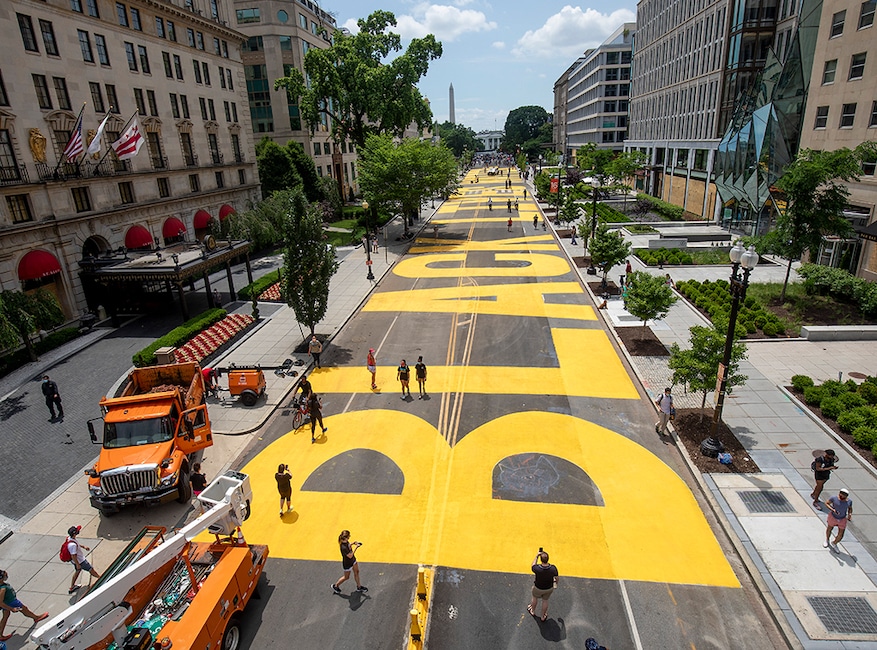 Tasos Katopodis/Getty Images
A Street Renamed

After volunteers received permission from the city of Washington, D.C. to paint the words "Black Lives Matter" down 16th Street, which leads to the White House, D.C. Mayor Muriel Bowser renamed that portion of the street "Black Lives Matter Plaza" on June 5.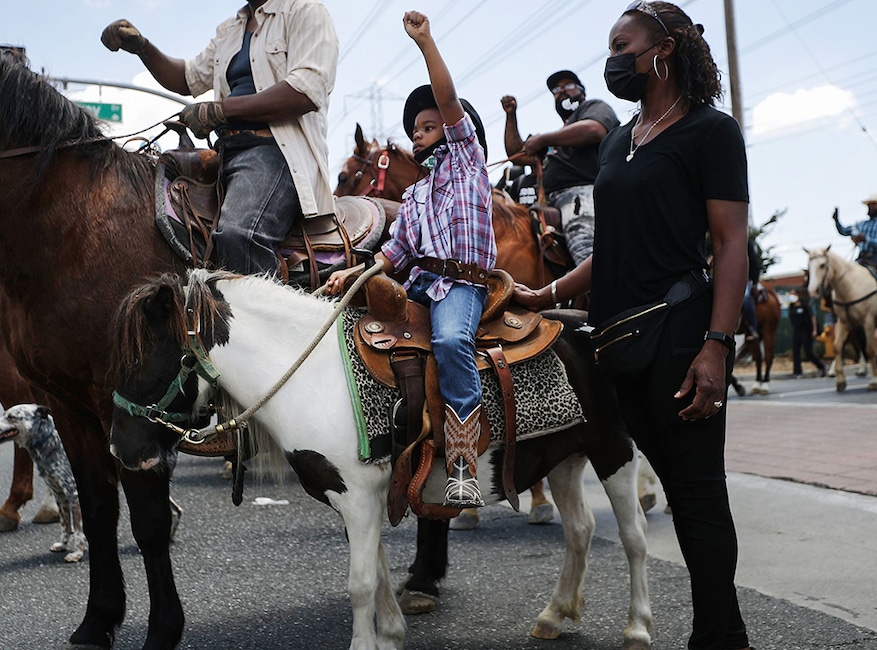 Mario Tama/Getty Images
A Peace Ride

On June 7, a young boy was photographed on horseback while participating in a "peace ride" in Compton, CA organized by the Compton Cowboys. According to their website, the group is "a collective of lifelong friends on a mission to uplift their community through horseback and farming lifestyle, all the while highlighting the rich legacy of African-Americans in equine and western heritage."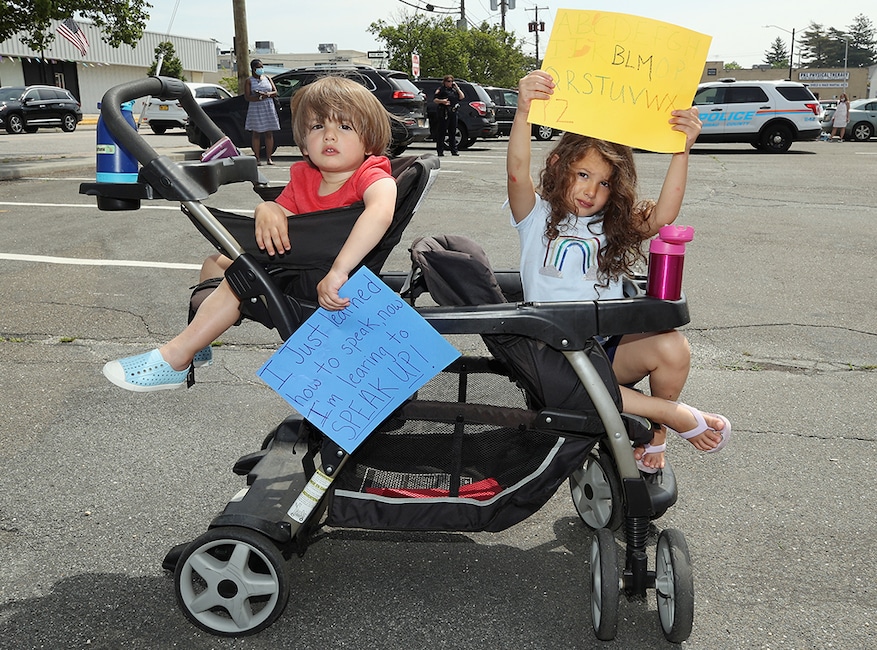 Bruce Bennett/Getty Images
Starting Early

Two youngsters were photographed holding signs in support of Black Lives Matter at a protest in Bethpage, NY on June 6.
Samuel Corum/Getty Images
A Full Plate

Washington, D.C. eateries Ben's Chili Bowl and Old Ebbitt Grill distributed free food to protesters attending a June 6 demonstration near the White House.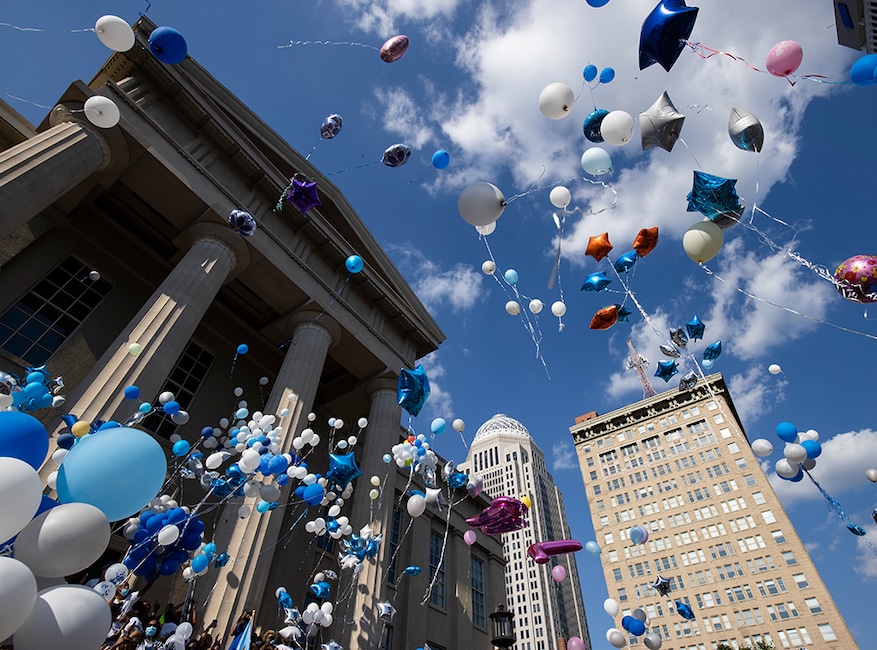 Brett Carlsen/Getty Images
A Birthday Wish

Protesters in Louisville, KY released balloons into the air during a vigil for Breonna Taylor held on June 6. It would have been her 27th birthday.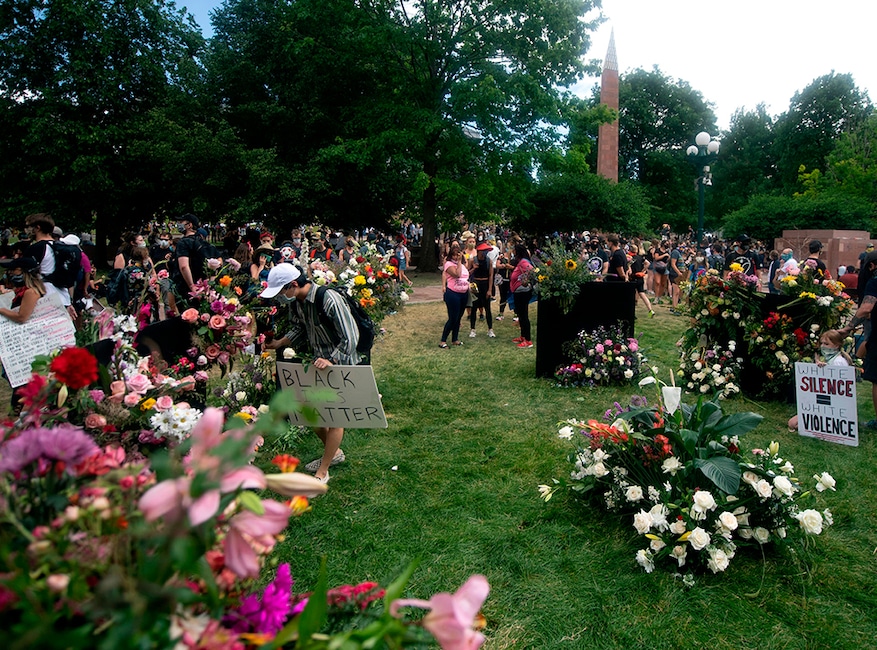 JASON CONNOLLY/AFP via Getty Images
Flowers for Mr. Floyd

Protesters filled War Memorial Park in Denver, CO with flowers at a "Flowers for Mr. Floyd" memorial on June 6.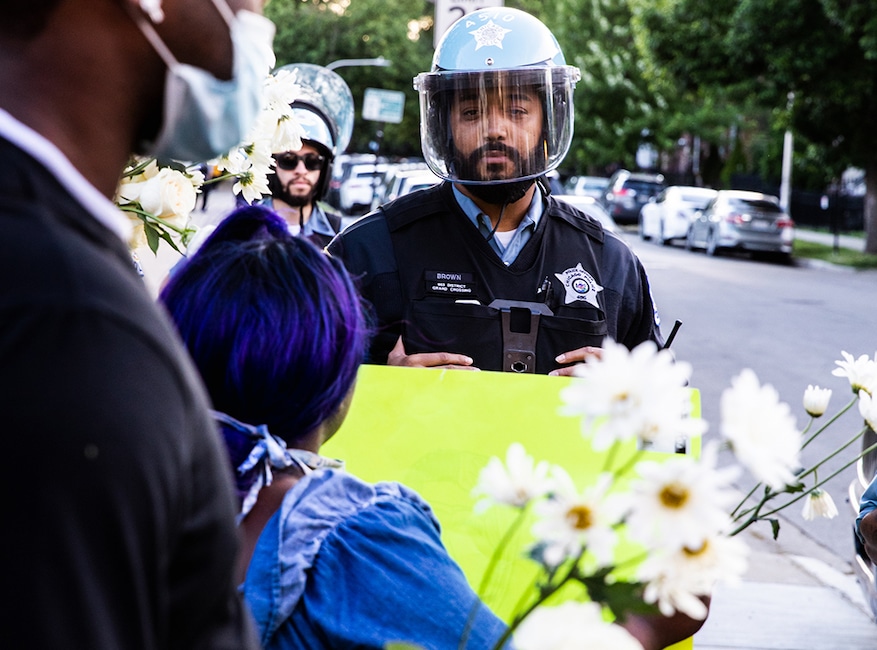 Natasha Moustache/Getty Images
More Floral

On June 6, protesters in Chicago presented members of the Chicago Police Department with flowers.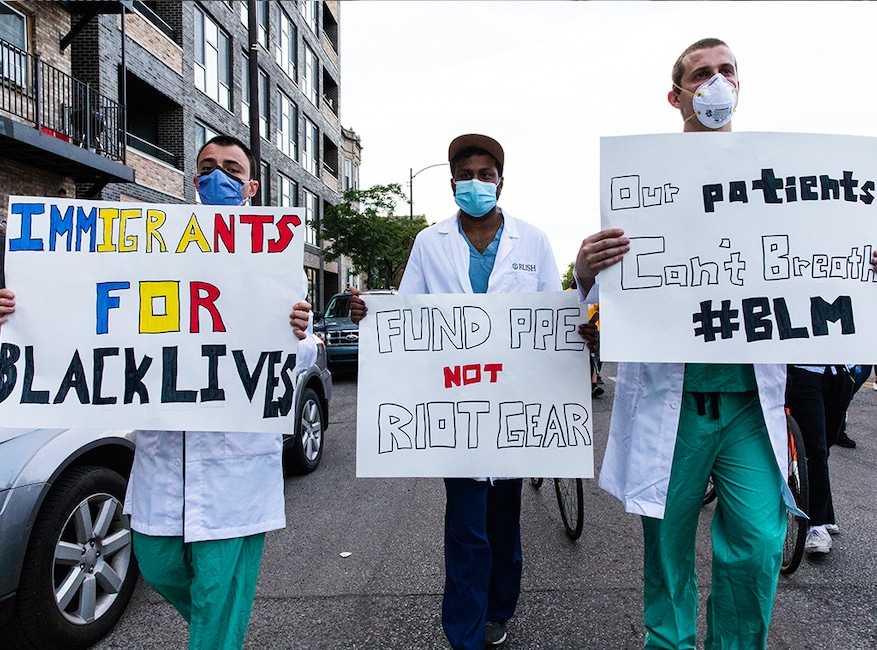 Natasha Moustache/Getty Images
On the Front Line

Health care workers joined a protest in Chicago on June 6.
AGUSTIN PAULLIER/AFP via Getty Images
Taking a Knee

Members of the National Guard took a knee with a protester at a demonstration in Los Angeles, CA on June 2.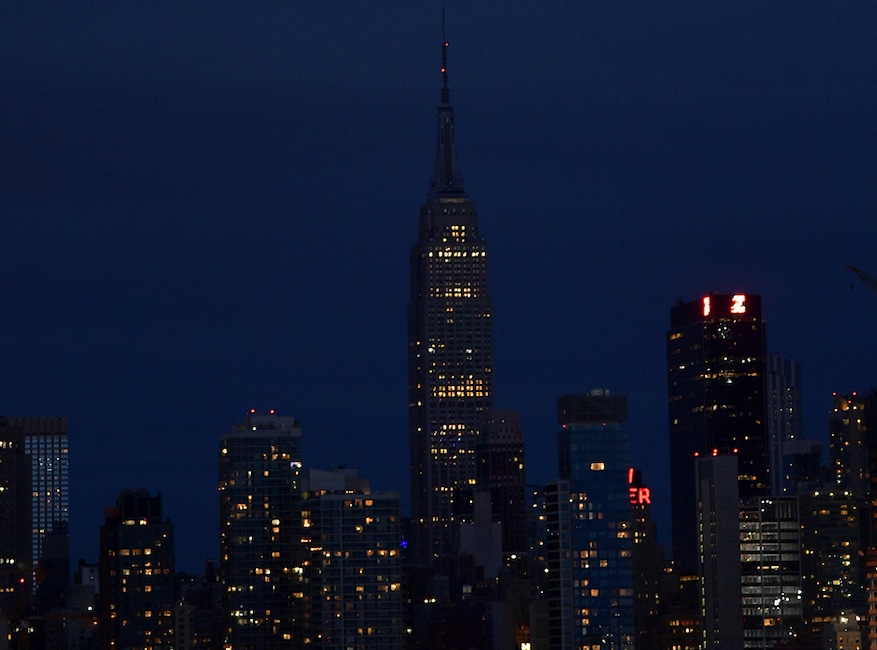 Michael Loccisano/Getty Images
Big Apple Blackout

On June 2, the Empire State Building went dark for the second night in a row in honor of Floyd.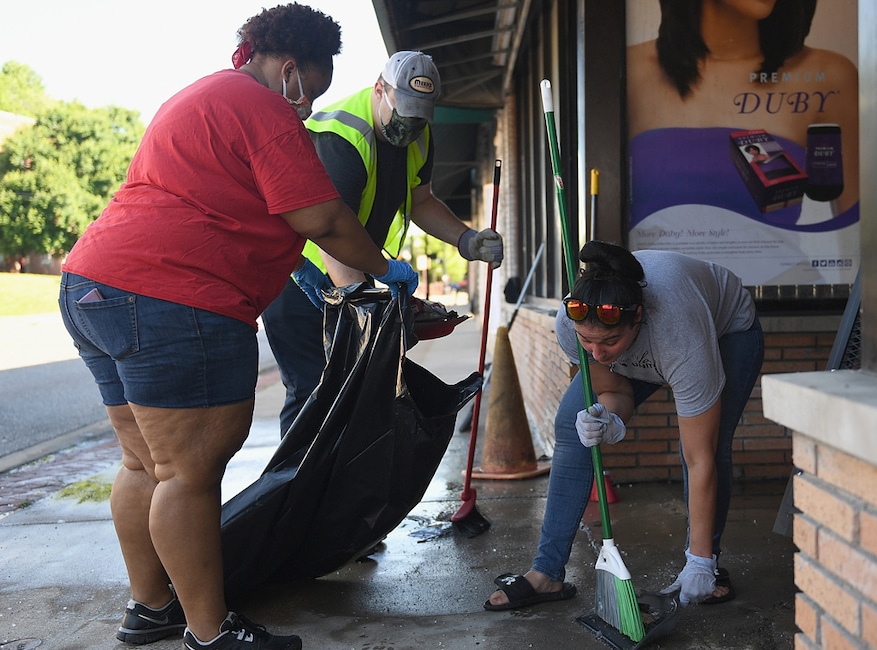 Michael B. Thomas/Getty Images
Lending a Hand

Neighbors in Ferguson, MO helped clean up a storefront on May 31 after an evening of property damage.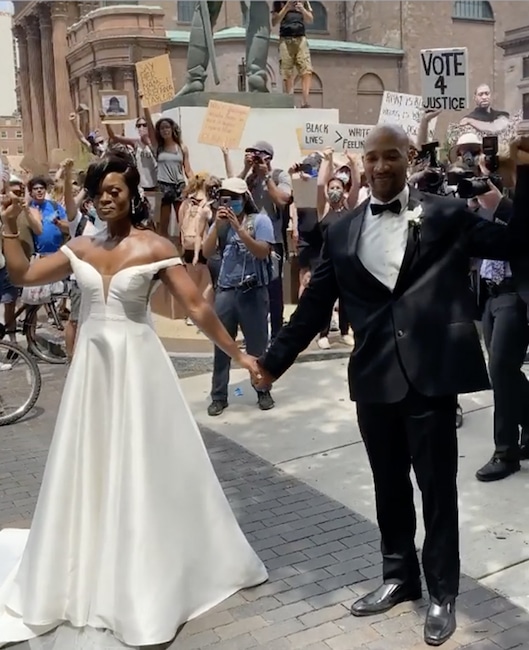 www.luxorweddingfilms.com
They Do

After a Black Lives Matter protest passed by their "micro wedding" on the lawn of the Logan Hotel in Philadelphia on June 6, Dr. Kerry Anne Perkins and Michael Gordon joined the march while still in wedding attire.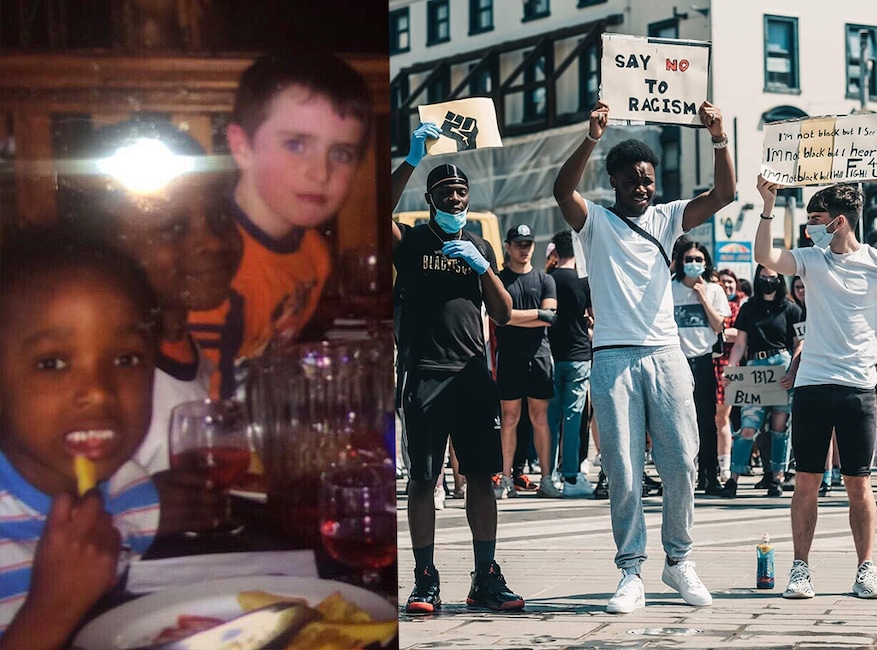 @kiitanamao/Instagram; Fra Lucchesi Photography
BFFs for BLM

Childhood friends Kiitan Amao, Moyo Badun and Sean Hill went viral after attending a protest in the small Irish town of Dundalk when a photo of the trio of their youth was juxtaposed to their current-day activism.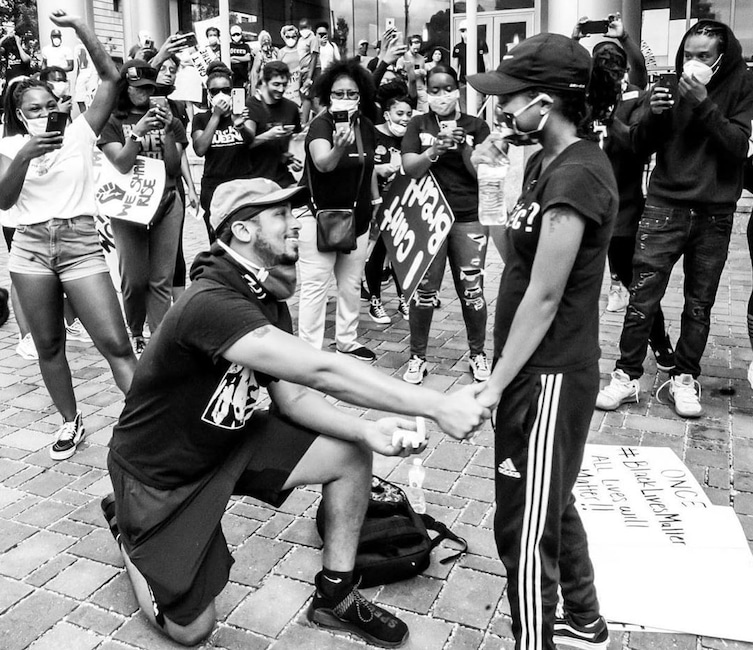 Charles Crouch/@popandsock
She Said Yes

While attending a protest together in Raleigh, N.C., Xavier Young got down on one knee and proposed to girlfriend Marjorie Alston. "Making history while witnessing history," Young captioned his video of the proposal.
"E! stands in solidarity with the black community against systemic racism and oppression experienced every day in America," the network said in a statement. "We owe it to our black staff, talent, production partners and viewers to demand change and accountability. To be silent is to be complicit. #BlackLivesMatter."
var fbstarttime = new Date(); !function(f,b,e,v,n,t,s) { if (f.fbq) return; n = f.fbq = function() { n.callMethod? n.callMethod.apply(n,arguments):n.queue.push(arguments) }; if (!f._fbq) f._fbq = n; n.push = n; n.loaded =! 0; n.version = '2.0'; n.queue = []; t = b.createElement(e); t.async =! 0; t.src = v; s = b.getElementsByTagName(e)[0]; s.parentNode.insertBefore(t, s); }(window, document, 'script', 'https://connect.facebook.net/en_US/fbevents.js');
fbq('init', '1611373942516879'); fbq('track', 'PageView');
var fbendtime = new Date();



Source link